A Customizable (Accessible) Bibliography Generator, that was Dan Malosh of MN's request on the Forums about two weeks ago: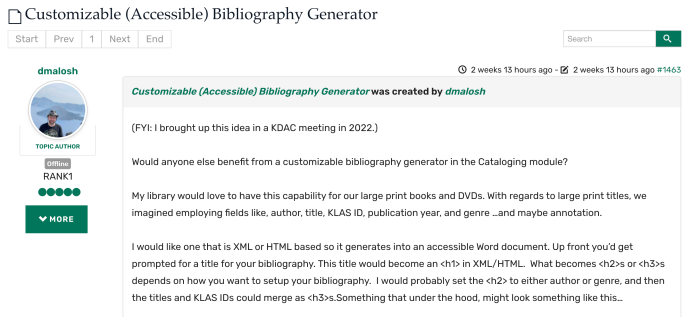 Would anyone else benefit from a customizable bibliography generator in the Cataloging module?

My library would love to have this capability for our large print books and DVDs. With regards to large print titles, we imagined employing fields like, author, title, KLAS ID, publication year, and genre …and maybe annotation.
This sparked a lot of interest... and then Sam Lundberg of NM chimed in to let us know about his rather ingenious method for doing just this, using KLAS's standard Export to Excel function and Word's Mail Merge.
The best part (at least in my opinion): once you have your Word template set up, you can simply select the exported Excel document from any catalog query or book search results to get a booklist that is nicely formatted to your exact specifications! The only thing this can't do automatically is generate the BARD link, though someone familiar enough with manipulating Excel data can add that prior to importing the data into Word, provided they do it the same way every time.
Learn how to create your booklists by following Sam's instructions, and give it a try with his example template and export:
Example Booklist Template (on opening, you will be prompted to select your data source, which should be the Excel file below)
I don't know about you, but I'm imagining the possibilities already. If you build a template of your own for any KLAS export, I hope you'll share it with the Users' Group here!