Here's the latest Notes from The Scribe for April 2019.
We are now Live on Version 7.7 and into a couple of upgrades.
When we last left you were just on to the Live Version of 7.7. Now we've had some updates and some issues were addressed. We are into at least our 4th iteration of updates and we've been live with full service to patrons since March 18.
First off, I'm happy to report that if you run into an issue it gets corrected pretty fast!!! There are some new tools for more accurate tracking of issues as they occur which allow Keystone to go right in and fix them. It's pretty impressive how fast some things can get resolved. I will tell you that the more detail you can provide, including screenshots, time of day and what you were doing when things happened makes things go much better.
Now onto the patrons and their experience...
From what we've gathered, so far, the patrons we have put on the new service, which we now call Books On Demand or BOD, have been impressed and enjoying the experience. What was once 12 patrons is now nearly 300 patrons as of this writing. We've been averaging adding 6-10 patrons a day. Our strategy has been to put all new patrons on the service, because this is all they will know and there will be no "bad" habits to break.
The other part has been adding transfer-in patrons and anyone who volunteers. Overall it's been a good experience. The other part now is adding existing (non-voluntary) patrons. This first batch of these patrons is a group of around 800 who use advanced digital talking book players (DA1), are not on BARD and have some form of automated (or Nightly) service type. To build a well-running service queue for patrons they have to be on a Nightly service type in order to serve them properly.
One caveat to this smooth running of nightly service types is in the Nightly List Only patrons. These are patrons who wish to be mainly served using their own lists of requests and reserves. The one preference that can also be used is a favorite authors, which should help supplement a list when it's empty. What we ran into initially were new patrons wishing to pick their own books but not offering up a list with anything on it. Also in many cased these patrons didn't give an authors to supplement requests. So this would cause a delay in getting their cartridges out to them while we backtracked or waited to get books. We want patrons, especially when they are new to the service, to be able to experience all of the advantages of this new system. Without any books to offer it will delay our ability to serve them in a timely manner and show them what things look like. As a solution to this issue we developed a curated list of books to offer up to patrons as a kind of sampler so they can see what we can offer them and so they can become familiar with their new digital talking book player and how things like the bookshelf work. This also offers staff a simple means of setting up patrons, as needed. Overall this has helped smooth out some of the initial wrinkles.
On another topic, in the last Notes from The Scribe we talked about tuning the number of books per turn per series takes some time to get adjusted just right. Our tuning of series to pull 2 books from series per turn has worked well. One additional area we needed to adjust was the number of reserves and requests per turn so that more of them will get turned over onto the patron service queue at a time. Along with this, we had some more seasoned patrons that we discovered were getting some newer books from favorite authors, since the system defaults to latest selections first, and they wanted to pull more of the back catalog of these items. So we adjusted the rules to pull oldest works first by Author just to see if this might help. So far so good. Things are working well. One other thing we tried out on 2 of our more particular patrons was setting up nightly auto-selection rules for them specifically and adjusting specific portions of their selections to tune them better and serve them more individually. In these cases, we have been successful in that they are much more satisfied with the individualized attention. This is a nice feature set to use in creating a more personalized experience.
On a final note, I have talked about putting into place good processes. What I would encourage beyond this is to allow these processes to adjust based on the people doing the job. The first part of a good process is seeing the bigger picture, but the second important part is to allow that bigger picture to account for the smaller parts that encompass the task by the people that are doing the task. One of the many benefits I have seen firsthand from this approach is having the people who are impacted the most become champions of the system and step up as teachers and trainers. Watching a process you have laid out being improved is quite satisfying. Seeing all of the things you envisioned at the beginning without being able to see it firsthand, is awesome. A couple of the following recent photos show a bit of staff interacting with the process. The way it looks in these photos is a little bit different than the original vision, but that's just fine.
Here's a couple of recent photos: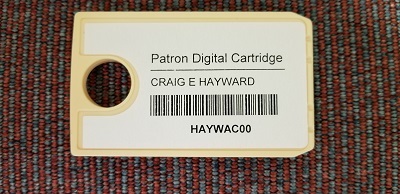 A patron digital cartridge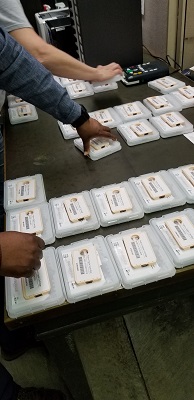 Inspection and inventory of BOD cartridges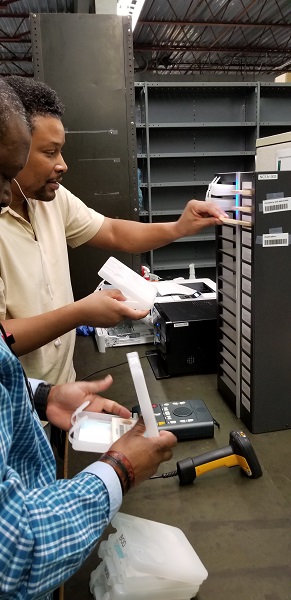 Staff running BOD duplication
That's all for this edition of Notes From The Scribe. The next edition will come out with the next round of major updates and new features.