Below you will find the latest udpated about the 2021 ONLINE KLAS Users' Conference. Please let us know if you have any questions or need additional information.
2021 KLAS Users' Conference Website & Attendee Portal:
Theme: Challenges, Changes & Creativity
Overview Schedule: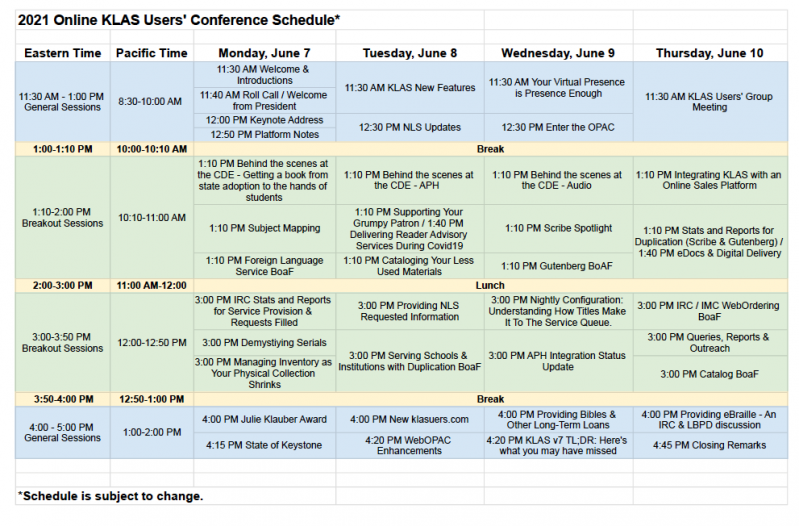 Format:
To give our attendees the best experience possible, we will be using the PheedLoop online event platform. The Planning Committees and Users' Group Officers had an opportunity to see the event participant side of the platform and were impressed with the features for networking, session scheduling and access, and extensive accessibility options.  
Using this platform, conference attendees will be able to attend sessions live or review the recordings later on, message each other privately or in subject groups, and even share files with their fellow users. While it can't fully replicate the feeling of all sitting around the same table, we hope that this format will allow us to bring as much of the full conference experience as possible.
Registration:
Go here to begin your 2021 KLAS Users' Conference attendee registration. 
The deadline to register is 8:00 PM Eastern / 5:00 PM Pacific Friday, June 4. If you have any questions about the group registration process, check out this step-by-step for a detailed explanation with screenshots.
Conference Registration is now open! To make this year's process easier than ever, we chose to use the PheedLoop platform to handle registration and even credit card payments. Yes, you can pay via a credit card this year! If you prefer or need to still pay by check, you can also download an invoice directly from the registration page.
$25 for individual attendee tickets
$50 for small group tickets (2-5 persons)
$100 for large group tickets (6-10 persons)
Group Ticket Purchases: Example: To purchase one Large Group Ticket for 10 people, select 1 "Large Group Ticket" with your name listed as the "Attendee". Then proceed through the payment and checkout options and then add the other 9 persons as "complimentary ticket" holders when prompted to do so. Each listed attendee will be emailed their ticket info separately. An organization can purchase whatever combination of individual, small, and large group tickets makes sense for the number of staff they want to attend. For example, a library can purchase one small group and one large group ticket for a total of $150 to cover up to 15 attendees.
Registration fees go towards the conference platform and video streaming services. This is not intended to be a profit-generating event! That said, the math on this kind of thing is difficult. The per-attendee cost of the event will vary significantly based on how many attendees we have, and while we have a lot of experience budgeting for and operating an in-person conference, an online conference is new to us. If we find that we undershot on the registration fees, Keystone will cover the additional costs. If we end up generating a little extra, it will be used towards the next conference.