Hi all,
Notes from The Scribe is an attempt to share our experiences, here in North Carolina, with Duplication on Demand for patrons, using a newly developed high capacity duplication system called The Scribe. There's been lots of buzz about this system since the 2018 Users' Conference. Those of you who attended the conference got a little taste of things and may have heard about how we got to the creation of this system. Those who couldn't be there, this is a bit of our story. My hope is to make this a more regular posting going forward so we can check in with y'all on how things are going. Please forgive some of the length, there's lots to say. Even more than what I could fit in this article. I promise some pretty pictures along the way to help ease some of the reading. Here's a bit of our story.
Like many of you out there, North Carolina had planned at some point, in the future, to offer duplication on demand because we saw things going in that direction with the program. We had been using Gutenberg already to duplicate individual titles and our local magazines onto cartridges. We were comfortable with making things available this way. When NLS announced to the network back in December 2017 that it was cutting back on what it offered to libraries freely on a cartridge, we in NC saw that this may become an issue in our more immediate future and we felt a push in the back to implement something. Getting duplication on demand now became a priority. We were able to get together some LSTA funding and then talked to Keystone about how to go about creating something that would work for our library. For those not familiar we serve 12,000 patrons and run an average of 2000 mail cards per day. We are a large scale, high volume library. We needed something that would work with our workflow and not interrupt the way we served patrons. We feel like The Scribe system can do that.
Before I go much further, I would like to take a moment to thank and remember all of the libraries currently implementing and/or running Patron Centric Cartridge (PCC) Duplication on Demand systems. You all were the first adopters, the pioneers, and the ones who helped make The Scribe System a possibility. We heard the stories of all the things that didn't work. All the delay. The various issues. Your pain was felt and understood, as part of the process of creating this system. It's unfortunate that sometimes a transition of doing things in the best way can only be discovered after many other things have been tried out and tested. Just as our service is transitioning, so too will a system like this evolve based on lessons learned. In Keystone's defense, the system implemented was based on looking at a readily available system (the Patron Centric one used in Iowa) and modeling it after that. Everyone talks about wanting Gutenberg to work with KLAS, but at the time of our experience, this wasn't even an available option put forth by NLS. We can only do things with what's possible at the time, particularly when you're talking about grant money. We had a timeline and we needed to implement something.
After the rain and the storm, I feel like we are seeing the rainbow in The Scribe. Is it perfect right now? No. But things look very promising. There are some minor issues being ironed out in testing. In the end, it doesn't matter to patrons what we do. They just want their books. Overall, we believe that most all of the major issues seen in other libraries using PCC have been addressed. Right now, going beyond all that, we're on a test version of KLAS. We've had the system in the building for the last month so a couple of us could test it out and see where the issues are so we can tune things and make them right before we go live. What's great about the new version of KLAS is that it has been developed using an agile method, meaning that adjustments can be made much closer to real-time and updates can be pushed out as needed, so updates get pushed to us much faster, sometimes within hours.
Some may notice that we didn't go the route of cartridge recycling. I'll be honest, I had expressed a want for the potential of going to the cartridge recycling method at some point down the road and that option may be possible, but it wasn't ready to be used with this system now. We needed to do something based on our situation. Since we are in a transition we can choose to go in many directions. We thought why not just go PCC and see what happens. Our processes will have to adapt anyway regardless of the method used. In the end, it's about serving the patrons by whatever means.
The next phase of this project is a pilot with staff being served like patrons to see if there are any issues and so that staff can get more comfortable. Once this is complete, we'll move on to serving patrons.
That's all for this article. Stay tuned for more Notes from The Scribe where we'll share more of our experiences and some more pictures of things as they happen. I'll end this article with some pretty pictures so far of what's happening.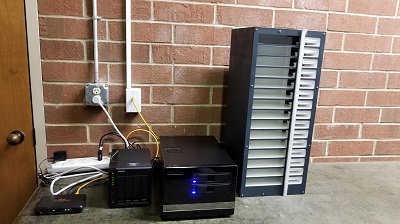 New Scribe Setup closest to the front of the warehouse. Lots of testing has been happening here. Pictured is the backup hard drive that stores the NLS BARD collection, the desktop processing unit communicates with KLAS and is the brains of the Scribe, and the duplication rack with 15 bays. We affectionately call this "Thing 1".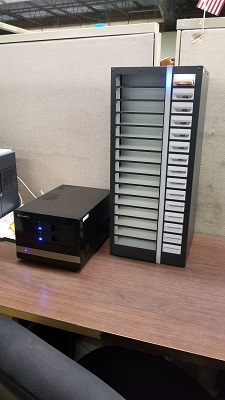 New Scribe Setup in the back of the warehouse in the circulation area. Pictured is the desktop processing unit that communicates with KLAS and is the brains of the Scribe, and the duplication rack with 15 bays. We affectionately call this "Thing 2".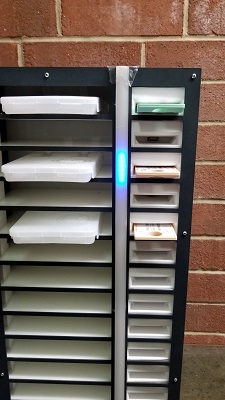 This is a cartridge being duplicated in the rack. Notice the light on the rack to indicate things are being duplicated.