From Sam Lundberg, President, KLAS Development Advisory Committee:
It's been a few months now since the KLAS User Experience Survey circulated, and the KLAS Development Advisory Committee (KDAC) has spent the time pouring over all the answers we received.  Some of you had small, actionable requests that will hopefully be coming down the pipeline soon. Others had big ideas that, rather than being added now, will help inform the next major iteration of KLAS. Finally, are my personal favorite suggestions: small quality-of-life fixes that make each day that 1% easier.  
I can't say exactly what will be coming next or which features will make it to live. We certainly had some common threads around the Service Queue, updating catalog records, the WebOPAC, and tools to handle Has-Had titles. The changes that DoD makes for patron service are starting to become clear and more feedback on how to mechanically address those changes will be vital. I believe there will also be some training coming to discuss requested features that are actually already part of KLAS, if not always obvious.
The survey was anonymous, so I can't get into the details of the responses. But I can share some interesting demographics data we gathered. Nearly ⅓ of responses came from users with more than 10 years experience with KLAS. Only 14% of responders use hotkeys constantly within KLAS, while 30% use them occasionally and 29% never use them at all.* The klasusers,com discussion forum is still under-appreciated with only 33% of responders saying they use it to interact with the KLAS community, but almost 70% attend the KLAS Conference, webinars, and/or the listserv. Reviewing anonymous survey responses proved tricky because we found many suggestions we wish had more detail or clarification, but that's the tradeoff for honest feedback on what's wrong now as well as what we want in the future.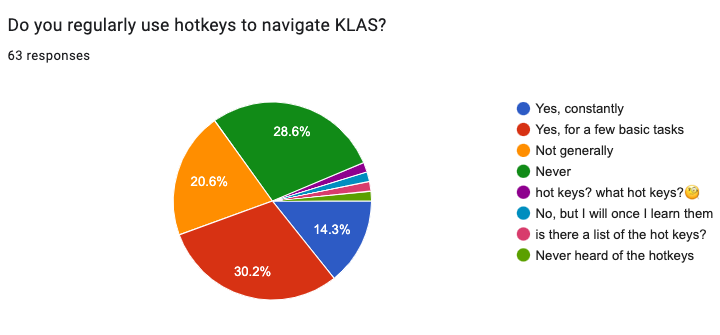 Of course, the conversation doesn't end with the survey. Keystone and KDAC are always looking at the forum, the listserv, the various live training sessions and presentations (organized or organic), and all other ways users talk to one another. Also, we invite you to speak with any KDAC officer directly about anything you'd like us to put forward. Development is an ongoing conversation about what would be good to add, but also about priorities and allocation of resources. Even if you know something you want is in the works or on the table, be sure to also let us know the importance of that change or feature to you or your library so it can get that extra oomph behind it.
Finally, because I haven't said it yet in this letter, thank you all for your participation in the survey specifically and the broad mission of KLAS Development generally!
*Note from Katy: If you are among those who don't know what they Keyboard commands are or who need a list to help you become more familiar with them, check out the KLAS Keyboard Shortcut page for a reference.